The U.S. Senate has reached an agreement without principle to be acquired as a wholly owned subsidiary of the Trump Organization. In two votes late Wednesday, Republicans, with one defection and no Democratic support, ratified the transaction by acquitting Donald O.J. Trump on two counts of impeachment detailing misdeeds that a majority appeared convinced were proven.
Mitt Romney (R-Utah) cast the lone "guilty" vote among Republicans in rejecting Article I: Abuse of Power by a 52-48 margin. Article II: Obstruction of Congress failed in a party-line decision, with all 53 Republicans voting "not guilty" and all 47 Democrats voting "guilty."
Beyond the acquittal, full terms of the deal remain shrouded. Trump's primary goal was capturing the only federal institution capable of removing him from office. But insiders say Trump was particularly interested in gaining full control over the Senate's longstanding casino operation, in which high-stakes, dark-money donors bid up the spoils of blocked or approved legislation.
"It's great to be back in the gaming industry," Trump reportedly said after the vote, according to an official who requested anonymity to share a comment not intended for public disclosure. "Nobody knows how to bet big, lose other people's money and come out a winner like me. Now, we can game the whole system."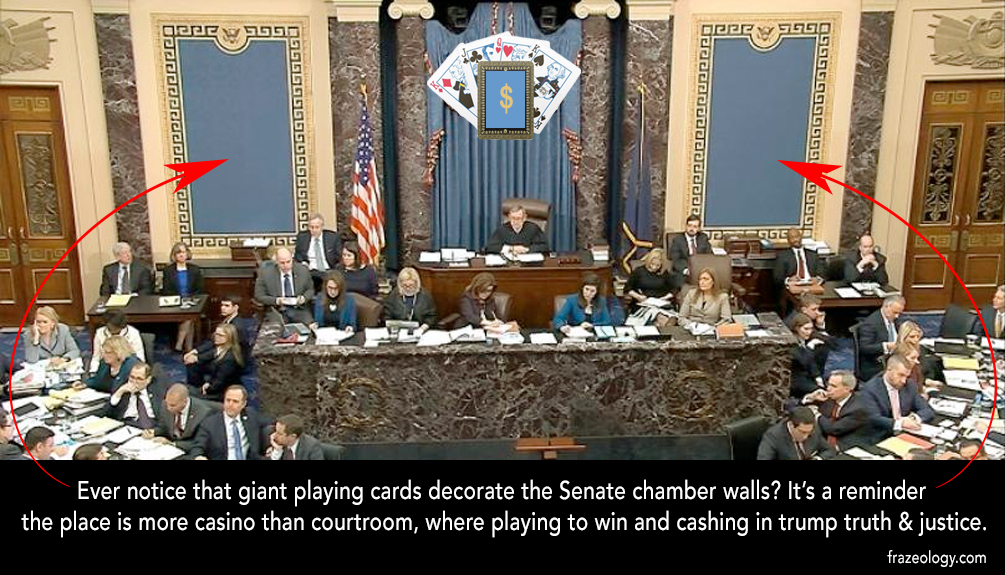 Fallout from Senate vote
The Senate's action intensified speculation over how long the U.S. House of Representatives can remain independent of the Trump juggernaut. During the past four years, Trump has pursued an aggressive acquisition strategy. He has captured outright control or a majority of voting shares in the Republican Party, the Executive Branch, the Justice Department, the Supreme Court, Fox News Channel, evangelical Christianity, and voters who favor repealing the 20th century.
Democratic shareholders thwarted Trump's leveraged buyout of the House in 2016. But a determined Republican minority continues to work closely with him on schemes to add it to his portfolio. They, along with their Senate colleagues, apparently believe that monopoly power vested in a single individual unaccountable to themselves or anyone else will produce a utopia for like-minded people and a deserved hell for all who disagree.
Trump's campaign manager, Brad Parscale, summed up the thinking succinctly in a prediction whispered to a state volunteer, who requested anonymity to share a comment not intended for public disclosure. "If we do this right," Parscale reportedly said, "this will be the last election. Then, my current job will go away, and the president has promised to put me in charge of the new Department for Electronic Eavesdropping & Policing and its task force of Secret Homeland Internet Trolls. We'll get everyone singing his praises, or they won't sing at all."