The Statue of Liberty, arguably our most iconic national monument, keeps popping up in the news.
Not because people passionate about freedom have seen her weeping like those Virgin Mary statues, although that wouldn't surprise. It's because dumbfounded reporters keep invoking Lady Liberty as the Trump administration ratchets up draconian immigration policies.
In 2017, Stephen Miller, Trump's senior advisor and uber immigration restrictionist, used the White House briefing room to defend plans to cut legal immigration by half.
A reporter challenged Miller with words from Emma Lazarus' famous poem, "The New Colossus," displayed in the statue's pedestal. Of its 14 lines, virtually every American knows them: "Give me your tired, your poor, your huddled masses yearning to breathe free."
Miller was coolly dismissive. "The poem that you're referring to was added later," he said. "It's not actually part of the original Statue of Liberty." Hmm, not part of the original. Another "originalist" argument. Like most historical revisionism, twisting the truth starts with a fact.
True, the cast bronze plaque of the poem was installed in 1903; the statue itself opened in 1886 without it. But Miller was counting on listeners either not knowing the whole story or not taking time to look it up.
The poem helped fund the Statue of Liberty
Lazarus composed the sonnet expressly for the Statue of Liberty in 1883, as a donation to an art and literary auction to raise funds for the pedestal. It was published in the catalogue of the exhibition, and in New York World and The New York Times.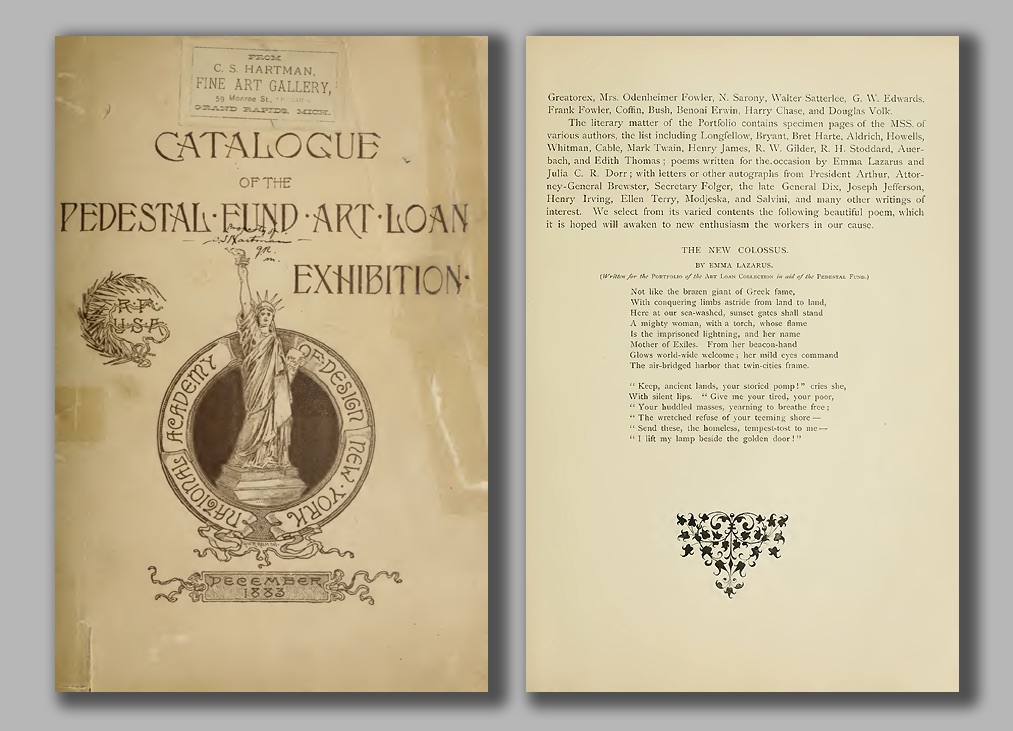 Lazarus died in 1887. As a result, the poem slipped into obscurity until her friend, Georgina Schuyler, organized an effort to install the plaque.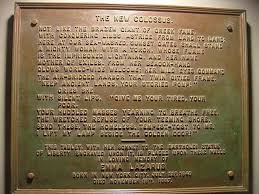 The poem belongs on the Statue
Make no mistake. The poem belongs on the Statue of Liberty. Its origin coincided with the statue's creation and was endorsed by those who erected it. The addition of the plaque was in no way ahistorical. Those inspired by the poem in 1883, and those who dedicated the plaque in 1903, accepted its message as integral to the statue's purpose and symbolism.
Nobody was confused in 1965, when President Lyndon Johnson added Ellis Island to the Statue of Liberty National Monument. In his proclamation, Johnson wrote: "WHEREAS the Statue of Liberty is a symbol to the world of the dreams and aspirations which have drawn so many millions of immigrants to America…" In his Rose Garden remarks, Johnson noted that "steerage immigrants…made us not merely a nation but a nation of nations."
Those who dislike immigration loathe America's long "nation of immigrants" history and ethos. Similarly, those who dislike racism loathe our long history of slavery, Jim Crow segregation and voter suppression. The difference is that the first group wants to obfuscate immigration history, while the latter wants to acknowledge our racial history and atone for it.
Editing the poem…and history
In mid-August, Ken Cuccinelli, the acting director of U.S. Citizenship and Immigration Services, prompted another "huddled masses" debate. Cuccinelli, a longtime immigrant as "foreign invader" propagandist, announced administrative changes to the "public charge" rule. The goal: make it harder for low-income immigrants to obtain temporary visas and green cards.
CNN's Erin Burnett asked Cuccinelli if he considered Lazarus' words part of the American ethos. He replied, "They certainly are: 'Give me your tired and your poor who can stand on their own two feet and who will not become a public charge,'" he replied. "That plaque was put on the Statue of Liberty at almost the same time as the first public charge was passed — very interesting timing."
Oops. More erroneous history. And almost the inverse of Miller's assertion. Congress first used the term "public charge" in federal immigration law in 1882, the same year it passed the Chinese Exclusion Act.
Responding to criticism of his literary skills, Cuccinelli argued the poem was really about class structure. He claimed Lazarus was writing about immigrants from Europe, where anyone in the wrong social class was considered "wretched." (Sighing. Shaking my head.)
Trolling has replaced debate
Supporters then hauled a scale model of the statue to his agency, where he Tweeted a selfie. Breitbart approvingly chortled the following headline: "Ken Cuccinelli Trolls Leftist Journalists with 'Statue of Liberty' Outside USCIS."
Trolling originated online, but it has metastasized across politics. Donald Trump, president of the U.S. Electoral College and supreme commander of the Twitterverse, now trolls opponents with virtually every appointment, policy and utterance.
Any day now, I expect someone to propose swapping Lady Liberty's torch for an outstretched arm with upraised palm. The official message: "Talk to the hand; we're closed."
If similarity to the "heil salute" offends, supporters will brush it off as paranoia on TV, while high-fiving on Twitter. Another win, successfully "triggering the libs."
Most liberals, whose moniker shares the Latin root liber, or freedom, with the word liberty, are yearning to be free of such foolishness but will have to await more sober times.
More than a beacon for immigrants
Recent mentions of the statue sent me searching my photos for one I made a few years ago from the tip of Manhattan. At the time, I thought the dock cranes in the background had ruined the scene.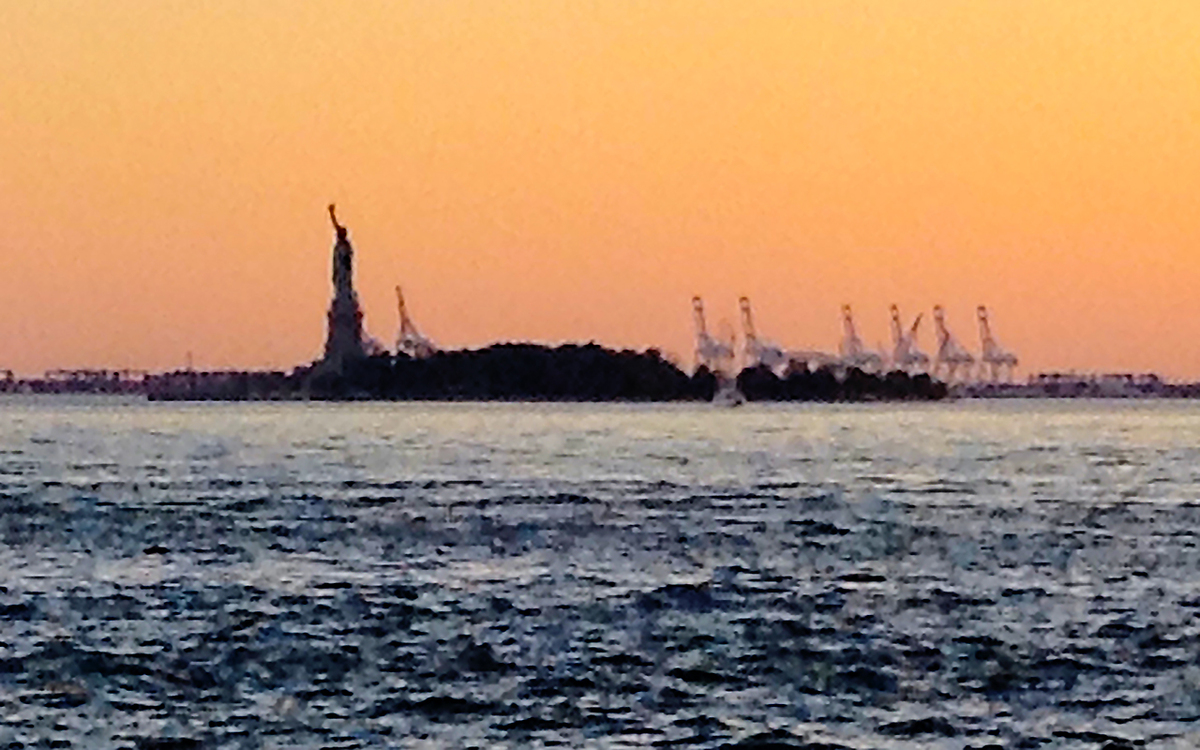 But now, the monument standing among the silhouettes of those cranes made me realize how this iconic treasure represents not only our heritage of importing immigrants but our role in exporting liberty. After all, French sculptor Frédéric Auguste Bartholdi formally named his work Liberty Enlightening the World.
Unfortunately, the status of liberty, arguably our most important national export, is in decline.
At home, Trump wants to indefinitely detain asylum seekers in facilities run by campaign donors with government contracts. He threatens to lock up or exile political opponents and to sue or shut down unfriendly media. He and his supporters troll opponents with talk about an unconstitutional third term. He commandeers free enterprise. He claims powers no president—or mortal—has ever possessed.
Abroad, he discards agreements and disdains alliances. The strongmen he envies feel emboldened. Journalists disappear. Ballistic missiles fly. Police execute suspects without trials. Land grabs resume. Troops mass to quell popular protests.
The only liberty Trump seems to crave is personal freedom from facts, logic, consequences, criticism, accountability, the rule of law or honoring past commitments. While Trump is usually fixated on trade deficits, he is oblivious to our collapse as the primary source of liberty.
The takeaway
America has real immigration issues. We need comprehensive reform. To get it, we must stop allowing strident voices to sow division and fear. We must not let them rewrite our history as a nation of immigrants.
We must remain a welcoming society that accepts those fleeing places lacking liberty. And we must choose leaders who will again champion liberty here and aboard.