Can anyone recall a car manufacturer having a tougher time than GM is having right now? Oh yes, there was that dust up Ford faced in 1978 over the tinderbox it named after a bean—the Pinto.
But as notorious as the allegations against the Pinto became, its recall was not nearly the largest in U.S. history. There were only 1.4 million Pintos and Mercury Bobcats recalled. Ford earned the distinction for largest recall in automotive history in 1981, when it recalled 21 million Ford, Mercury and Lincoln vehicles for a transmission problem that caused 6,000 accidents and 98 deaths.
GM announced today that it would pay a whopping $35 million fine (the maximum) for failing to recall vehicles it knew had an ignition switch safety problem. Just yesterday, GM issued five safety recalls covering 2.7 million vehicles, bringing the total number of vehicles the company has recalled this year to 11.2 million in the United States and nearly 13 million worldwide. The U.S. recall figure to date is almost 15 times last year's total of 758,000—an encouraging trend, if you are trying to short GM stock.
At this point is there any reason not to assume that every GM vehicle has a problem? For that matter, has anyone ever owned a vehicle that did not have some kind of defect or design flaw? Remember when the spotlight was on Toyota a few years ago for sticky accelerators and runaway cars? I've had recalls from Toyota (and Honda) for problems I did not notice and probably never would have, but Toyota cannot seem to fix that nagging rattle in the dashboard…
Flaws aside, Americans are hanging onto their cars longer, a trend that has persisted since 2001. A Bureau of Labor Statistics survey in 2012 found that the average age of cars, vans, SUVs, and trucks increased to 11.3 years from 10.1 years in 2007. That means for every new car you see on the road, you're likely to see others 20 years old or older. As the age of the general population and its automobiles creeps ever higher, it is becoming common to see vehicles (and drivers) that look like they should have been put out to pasture long ago.
In that spirit, I offer two new word constructions:
(car-dăv-ers) n: clunkers headed for scrap metal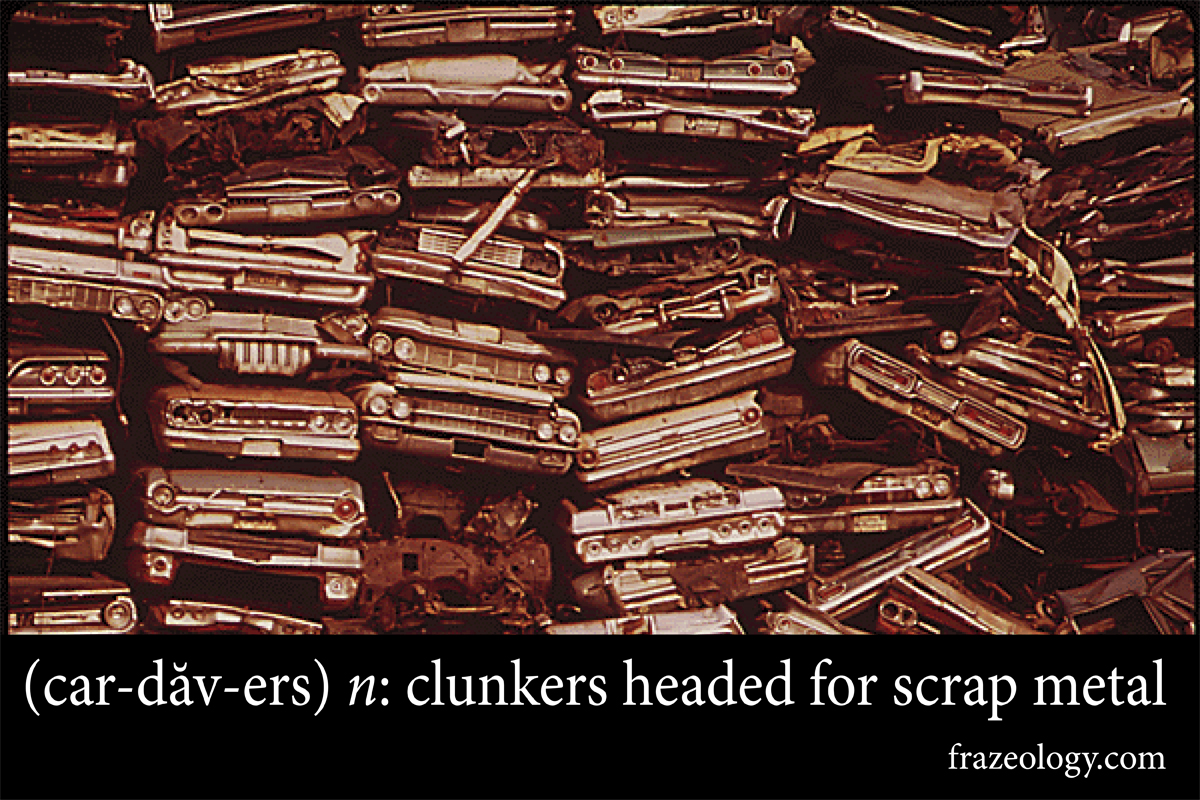 and
(zoom-bies) n: cardavers that just keep rolling