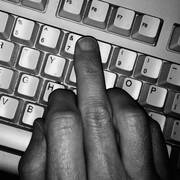 One slip of a finger at the keyboard can completely alter the meaning of a word. Caught during editing, typos cause laughs. Missed, they cause problems.
On this last day of the month, when sellers send buyers a statement of what they owe, this single-letter typo is quite apropos:
billing bilking
Example: Dear Valued Customer, please find enclosed a summary of your account. We appreciate your prompt payment. If you have any questions about our bilking procedures, please contact our accounts receivable manager.