My preoccupation with the vagaries of language sent me searching this morning for the reason we say "Merry Christmas." After all, we use the word happy to convey our best wishes for most other holidays, including the New Year, Easter, Fourth of July, Halloween, and Thanksgiving.
A Wikipedia result will top just about any Internet search of this type (I used the keywords: origin phrase Merry Christmas), and sure enough its entry for "Christmas and the holiday season" displayed first. Deep in the article, under the subheading "History of the phrase," I learned that merry comes from the Old English word myrige, which meant "pleasant" or "agreeable," as opposed to its more modern connotations of "joyous" or "jolly."
In 1565, the phrase was common enough for an English newspaper, the Hereford Municipal Manuscript, to print the sentence, "And thus I comytt you to god, who send you a mery Christmas & many." This is often cited as the first documented use of the phrase.
Happy vs. Merry
It also seems that "Happy Christmas" made a run at "Merry Christmas" during the 19th century's Victorian temperance movement in Great Britain and Ireland, but it never caught on in America. "Happy Christmas" was the original wording in the closing stanza of Clement C. Moore's 1823 poem "A Visit from St. Nicholas," better known as "Twas the Night Before Christmas," but most modern editions have replaced it with "Merry Christmas."
Wikipedia is a valuable resource, but errors are plentiful, so I continued scanning the search results and found a trustworthy-looking blog entry, "What makes Christmas merry? A brief history of yuletide adjectives," by Katherine Connor Martin, a lexicographer for the Oxford University Press. OUP publishes the Oxford English Dictionaries, which claim to be "the world's most trusted dictionaries."
She confirmed some of the Wikipedia history that I first suspected might by hyperbole, namely: "The word merry can be used in British English as a synonym for "tipsy", and historically, the Christmas season was a time of intemperate revelry." See the Oxford entry for merry.
Hints of this 19th century culture war can be seen in what is widely regarded as the first mass-produced Christmas greeting card.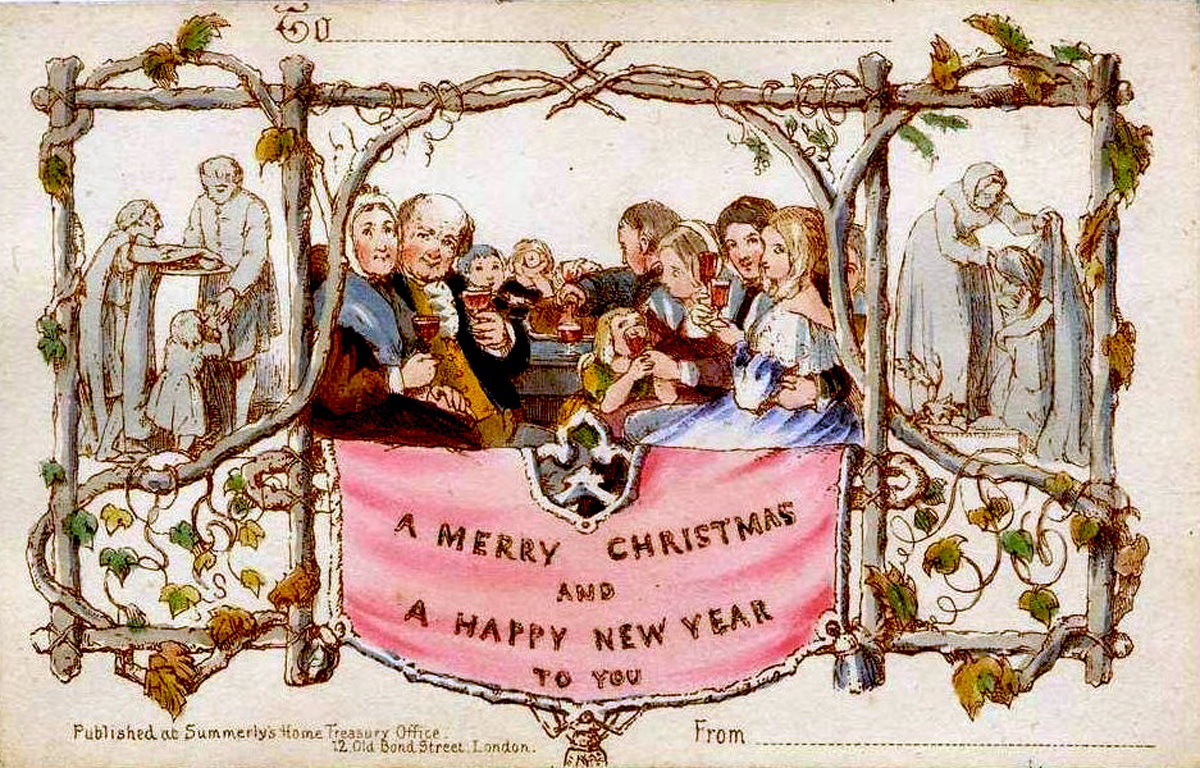 Sir Henry Cole, a British civil servant, writer, and designer, invented the greeting card industry in 1843, when he commissioned a pen-and-ink drawing of his family hoisting wine glasses in a toast. (Note how even the youngster is getting a little nip.) Cole, who is also credited with creating the self-adhesive postage stamp, made a thousand lithographic copies. He sent most to friends and customers and sold the remainder at his art shop, which operated under his pseudonym, Felix Summerly. An anonymous bidder reportedly purchased one of the few remaining originals for $6,846 earlier this month at a British auction house.
I have not done a similar search on the tradition of ringing in the New Year with champagne toasts (usually after consuming other spirits, as well). But, after my quick review of the historical term merry, and considering our prevailing custom of drinking and revelry on New Year's Eve versus attending Christmas Eve candlelight services in churches, I'm pretty sure we have our holiday greetings backwards.
Whatever holiday you celebrate and however you express it, I hope your departure from the daily routine brings you what you seek—whether that is rest, reconnection, renewal, insight, inspiration, or inebriation. Savor your holiday moments, and remember that their fleeting nature is what makes them special.