One recent Saturday, my wife and I awoke to learn that we were casualties of the TV streaming wars. Giant corporations had decided our fate.
Notification came in a bland email from our streaming service, YouTube TV. It informed us that ABC, ESPN, FX, and other Disney-owned programming would shortly disappear from our channel lineup. Indeed, when we turned on the TV to check, all 17 channels were already gone. To salve the wound—a $15 reduction in the monthly bill.
For months, I'd been watching a different dispute between YouTube TV's parent, Google, and Roku, the maker of popular streaming devices that we have connected to five televisions. Without a new agreement, YouTube TV would disappear from Roku's app offerings. That would force a choice between giving up YouTube TV or buying new devices.
The Battling Streamers
Roku is publicly traded with a market cap of $29.31 billion. It has built a strong niche in the steaming ecosystem by having TV manufacturers build Roku devices into their sets. But Roku was punching far above its weight. Google is the centerpiece of Alphabet, a corporate colossus with a $1.88 trillion market cap.
At the final hour, Roku and Google reached agreement. It was a relief to know we wouldn't have to buy new streaming devices to keep YouTube TV, which we like for its unlimited DVR space and ability to download three simultaneous streams.
Now, just 10 days later, a new corporate skirmish was forcing us to migrate to another streaming service to keep live sports via the ESPN channels. We felt helpless but knew we had no choice.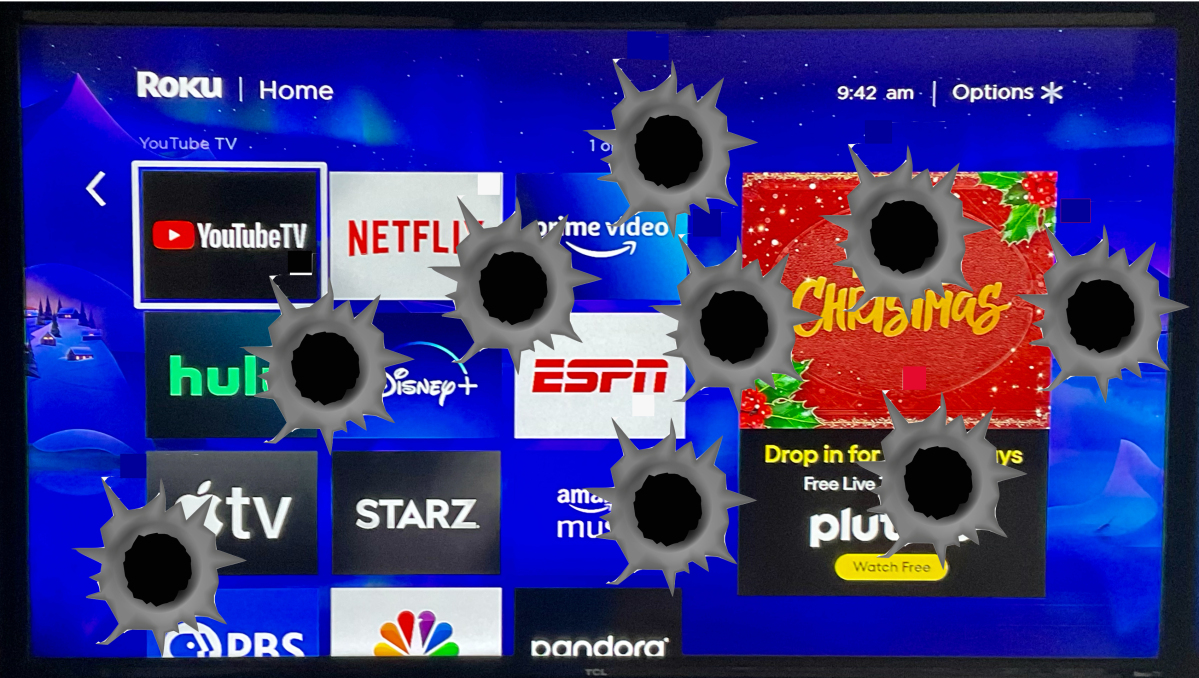 The Walt Disney Company, with a market cap of $270.31 billion, is 10 times larger than Roku but still only a seventh the size of Alphabet. However, as owner of ABC and ESPN and majority owner of Hulu, Disney controls a portfolio of entertainment properties and live sports that gives it outsize clout. The contretemps with Google seemed purposely designed to funnel viewers like us into the Disney-Hulu-ESPN bundle—priced at $13.99 versus our $15 refund. Whatever, it worked.
Despite common ownership, these three streaming products are not well integrated, and buying the bundle proved unnecessarily complicated. Our email address in an old ESPN database somehow blocked us from signing up for Hulu. And we needed Hulu (or any TV provider other than YouTube TV) before we could watch ESPN. Because many of YouTube TV's estimated 4 million users were also trying to recover ESPN that day, Hulu customer service was overwhelmed. What should have taken 15 minutes stretched to hours.
The Whiplash
That evening, I had live sports again. My wife explored Hulu, offering positive reviews. TV viewing was back to normal.
The next morning, we received an email announcing that YouTube TV and Disney had resolved their dispute. Really? Now? Who caved? Neither will say. But the deal was apparently lucrative enough that Google unilaterally offered to leave the $15 discount for the whole month.
Hmm…let's do some math: $15 x 4 million subscribers = $60 million for 39 hours of partial downtime. That seems an expensive way to miss a contract renewal deadline. But $64.99 x 4 million subscribers = $260 million per month or more than $3 billion per year. That is why corporate behemoths are wrestling over subscribers.
So, we've now subscribed to more TV options than ever. And we have new decisions to make about which services to keep. (My granddaughter's reaction to having Disney+ available will weigh heavily.)
Once upon a time, watching TV was simple. You bought a television set, put up an antenna and were lucky if half a dozen local stations came in clearly enough to view. Choices were limited because the locals were affiliated with a few large networks. Cable brought more channels—and high prices.
Streaming over the internet (over the top, or OTT) began as a way around expensive cable packages. Today, streaming services themselves have grown large and expensive and suffer the same "carriage" disputes that have plagued cable providers. Viewers have more options than ever, but it's more complicated than ever to cobble together the content you want.
In our house, we have several core apps we pay for continuously and others we keep a few months and move on. The annual contract seems to have been the first casualty of the TV streaming wars.
The Takeaway
As annoying as this episode was, I reminded myself what an enviable or perhaps luxurious or maybe even ludicrous problem it is to have free time to spend on a Saturday morning haggling with customer service reps about TV streaming apps that deliver more hours of content (yes, some of it unwatchable) than anyone could ever consume. Without doubt, a "first-world problem."
So, in the spirit of the holidays, I will end this rant on a note of gratitude. I'm glad to live in time and place where consumer goods and entertainment can be ordered from an easy chair and delivered almost instantly to our doors and screens.
Amid the illness, tensions and fears that have so dampened daily life the past couple of years, modern conveniences continue to make many things so easy that most of us have forgotten what hard is really like.