Business.com recently published my article "The Art of Negotiating; How to Make Every Deal a Win-Win."
In today's business environment, where specialization, outsourcing, partnerships, alliances, collaborations and greater transparency are the norm, negotiating win-win outcomes is essential for building long-term, stable business relationships.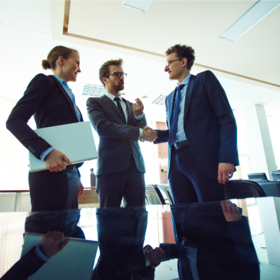 This article summarizes the differences between distributive negotiations, which produce winners and losers, and integrative negotiations, which produce win-win collaborations.
I'd always heard that you should never make the first offer when negotiating. But during my research, I discovered another viewpoint on this.
Alison R. Fragale, Ph.D., a professor of organizational behavior at the University of North Carolina at Chapel Hill's Kenan-Flagler Business School, suggests that the integrative approach allows you to open negotiations with an offer as close as possible to the other party's acceptable level, thus avoiding a "too reasonable" offer that leaves money on the table. You can read her full rationale in a blog post for the school's online MBA degree program.